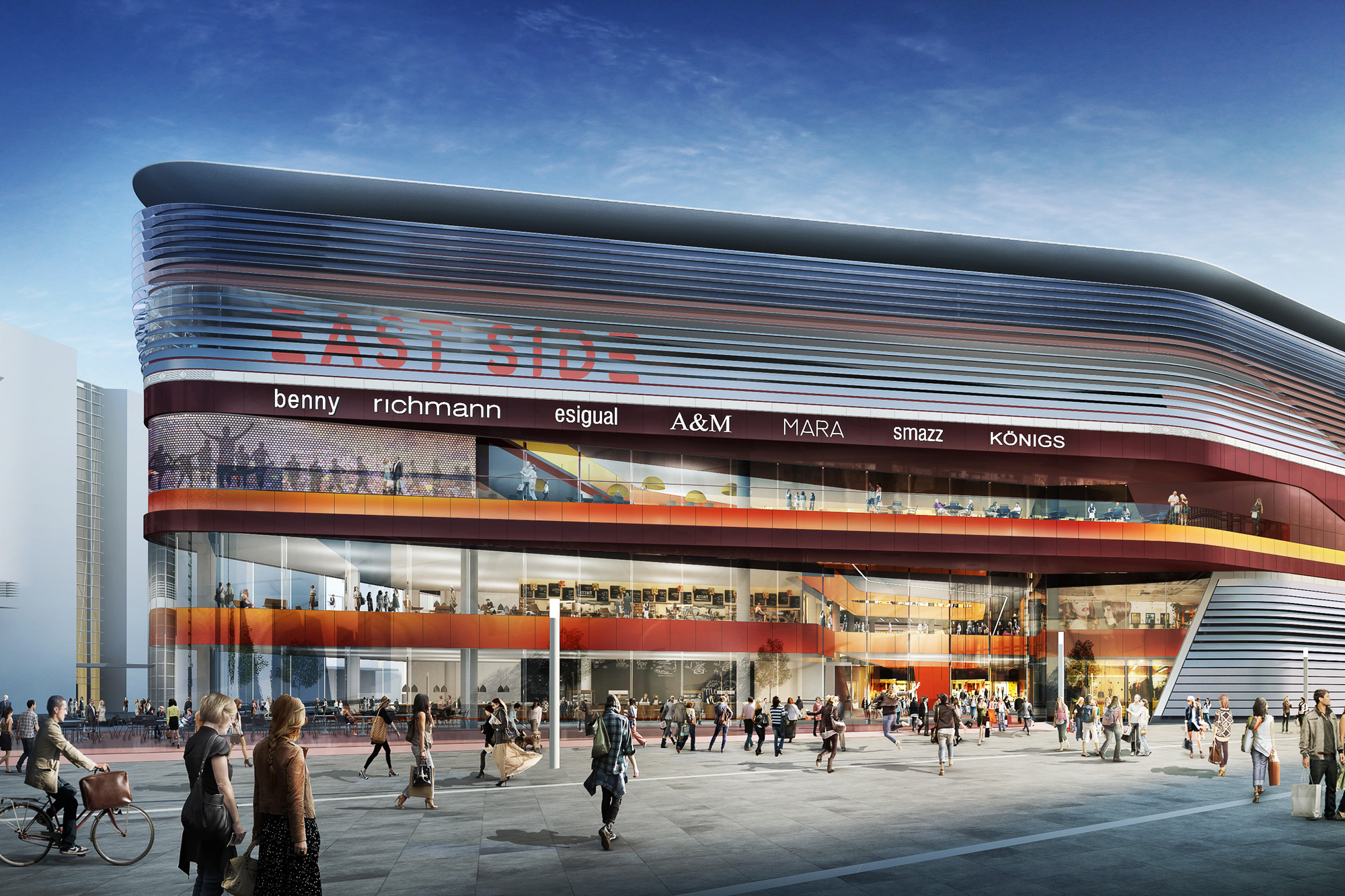 Fashion stores include ZARA, Pull & Bear, Intimissimi/Calzedonia
Rewe, dm, Aldi, bakery, butcher's, ice cream parlour, FitX and several local retail and food concepts
A very busy location with a diverse customer structure
Berlin, 11 April 2017
On the east bank of the Spree in one of Berlin's liveliest areas packed with tourists attractions and a high population and office density, FREO Group and RFR Holding GmbH are constructing the EAST SIDE MALL, which is due for completion by the end of 2018. It will contain around 120 units covering 24,800 square metres of retail space and 6,200 square metres for restaurants. There are a further 2,770 square metres for a Fit X fitness studio, 4,700 square metres of storage space and 760 car parking spaces. Well over half of the rental spaces have already been let to international fashion retailers as well as classic local stores.
FREO Group and RFR Holding GmbH are relying on high-profile landmark architecture and a diverse range of shops and restaurants to complement the location's specific characteristics. There is plenty to entice visitors to do some window shopping thanks to several popular international fashion stores such as ZARA, which is taking around 2,700 square metres, Pull & Bear which will cover around 1,000 square metres, Intimissimi/Calzedonia, Deichmann, Rituals Cosmetics as well as jewellers and souvenir stores. The varied cuisine available in the food court also offers people working in the area a huge choice between classic fast food and light bites of an Asian or vegetarian/vegan variety. The offer ranges from Kyoto Running Sushi (around 300 square metres) and Kenny's (around 800 square metres) all the way to Hauptstadtburger, Lemongrass Buffet and immergrün. Local residents' needs will be met by a Rewe supermarket covering around 3,500 square metres, an ALDI discount store on around 1,300 square metres, health and beauty retailer dm on around 860 square metres and numerous other specialist retailers.
The EAST SIDE MALL is being built right next to the Mercedes-Benz Arena, just a few hundred metres from the world-famous East Side Gallery tourist destination which gets 3 million visitors a year. The new district around the Mercedes-Benz Arena also consists of around 2,000 apartments, 18,000 office workstations, a number of hotels as well as attractions such as a 2,500-seat multiplex cinema, Music Hall and a 28-lane Bowling World. Right opposite the EAST SIDE MALL is the busy Warschauer Straße station for underground and express trains, the main transport hub for the heavily populated Südkiez area in Friedrichshain.
With 18 months to go before the EAST SIDE MALL opens, 55 per cent of the units have already been let. Leases are being handled by two experienced retail experts: Fokus Entwicklung AG Duisburg  (+49 203 73996-100, s.marinkovic@fokus-development.de) and CBRE, Berlin (+49 30 726 154 111, andreas.malich@cbre.com).
FREO Group
Established in 1996, FREO Group is an independent European investor, developer and asset manager of high-quality commercial real estate. From 15 offices in Germany, the United Kingdom, France, Spain, Switzerland, Luxemburg and the USA, FREO has worked on more than 40 projects totalling in excess of 1.5 million square metres across Europe. www.freogroup.com
RFR Holding GmbH
RFR Holding GmbH (RFR) is part of the RFR Group whose principals – real estate investors Michael Fuchs and Aby Rosen – both have German roots. The last 25 years have seen RFR build a unique portfolio of properties in the US. Architectural icons such as New York's Seagram Building by Mies van der Rohe or the celebrated Lever House by Skidmore, Owings & Merrill are complemented by contemporary office and retail buildings, luxury condominiums and hotels in prime locations. The RFR Group currently oversees some 12 billion euros worth of real estate assets worldwide. Headquartered in Frankfurt/Main, RFR Management GmbH is responsible for the property and asset management of the RFR Group's entire German real estate portfolio covering over 700,000 m². More information is available from www.rfr.com
For more press information:
Stöbe. Die Agentur für Kommunikation GmbH
Tel.: +49 30 816160330 / presse@stoebekommunikation.com