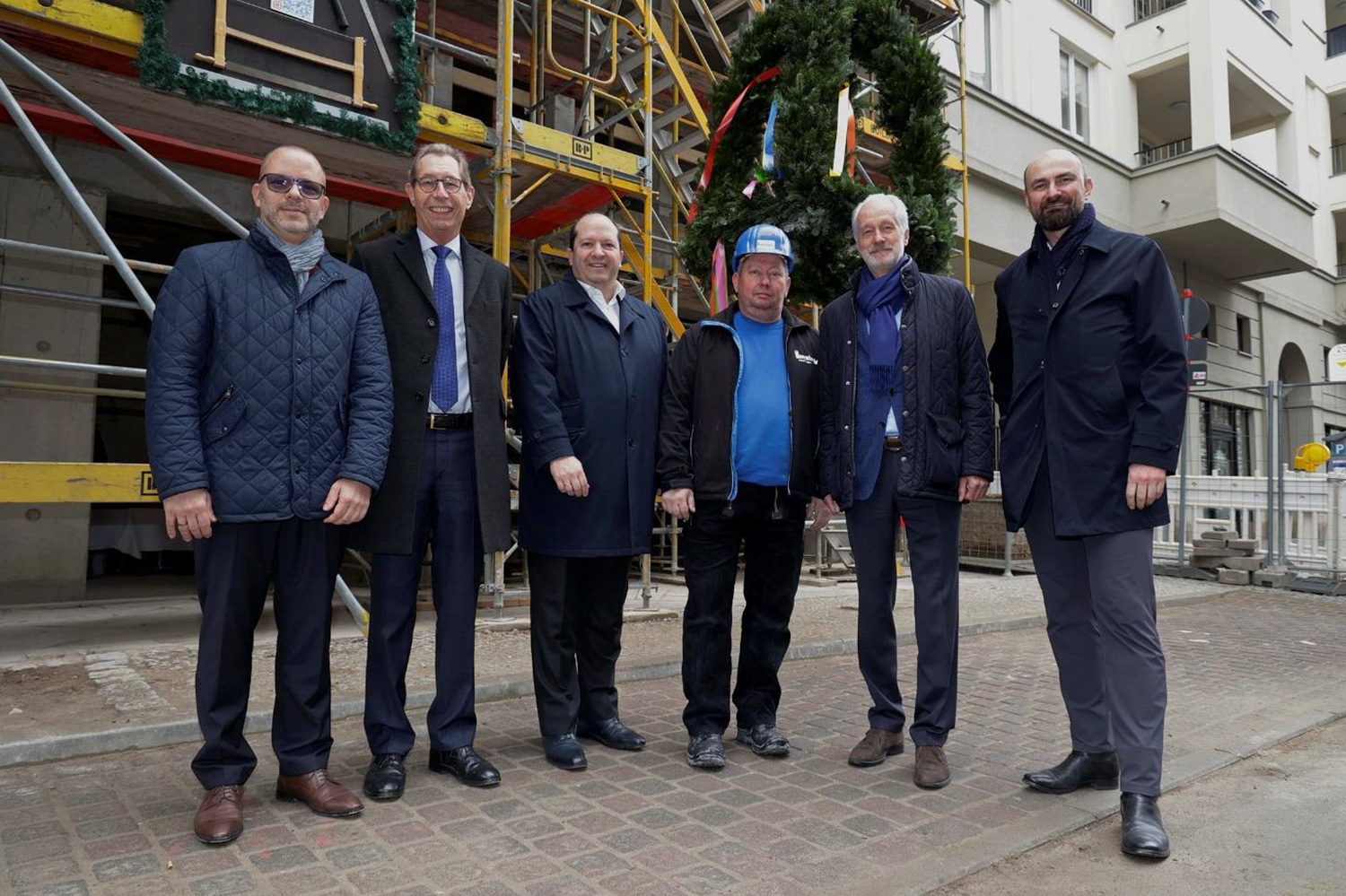 The FREO Group (FREO), a pan-European investment manager and project developer, celebrated the topping-out ceremony at Seydelstrasse 14 in Berlin-Mitte on 21 March 2023 with around 60 invited guests from politics and society in spring-like temperatures. On the 1,100 square metre site, a new seven-storey building with a stacked storey will be built on approx. 2,800 square metres of rental space with a green roof garden and terraces facing the inner courtyard.
The office building is characterised by modern architecture with a sustainable façade concept and floor-to-ceiling French balconies at the windows. Light-flooded rooms allow flexible use for individual and open-plan offices. In addition, each floor has its own lounge and a spacious open kitchen. The individual rental units per floor vary between 230 square metres and 470 square metres and, with a clear height of up to 3.65 metres, ensure a pleasant indoor climate. The use of environmentally friendly and sustainable materials is planned for the interior fittings in order to achieve a low Co2 balance for the building.
For the 110-square-metre roof garden on the 5th floor, extensive greenery is planned and panoramic loungers will ensure the well-being of future users. There will also be a roof terrace on the 3rd floor. An outdoor area of around 600 square metres will be integrated into the existing garden design of the surrounding neighbourhood and provide space for creative pauses for thought. Completion of the Seydel14 project is scheduled for autumn 2023.
FREO had acquired the property in an off-market transaction in August 2020 and submitted the building application in February 2021. The foundation stone was laid in spring 2022. The designs for the building project are by Tchoban Voss Architekten, the implementation planning by Fischer + Werner Architekten. DGNB Platinum pre-certification has already been obtained. Users have access to 14 car parking spaces and 40 bicycle parking spaces, some of which also have charging points for e-bikes in the underground car park.
Prof. Dr. Hartmut Leser, CIO of FREO Group, comments: "Berlin is and remains one of the most interesting investment locations in Germany and continues to gain in attractiveness as a location for international companies and organisations. Our property in Seydelstrasse has an excellent location in Berlin Mitte, creates a very pleasant and creativity-promoting environment for the users and sets new standards in ecological terms. As such, it is fully in line with our vision of a new generation of office buildings."
—
Photo (from left to right): Patrick Burkart, Managing Director FREO, Prof. Dr. Hartmut Leser, Spokesman of the Management Board CIO FREO, Matthias Luecker, Building Owner and CEO FREO, Mike Michaelis, Foreman Kasimir Hochbau, Jörg Nehls, JNP Real Estate Management, Sebastian Mogos-Lindemann, Managing Director FREO; Image source: FREO Group, Photographer: Stageview Pedro Becerra