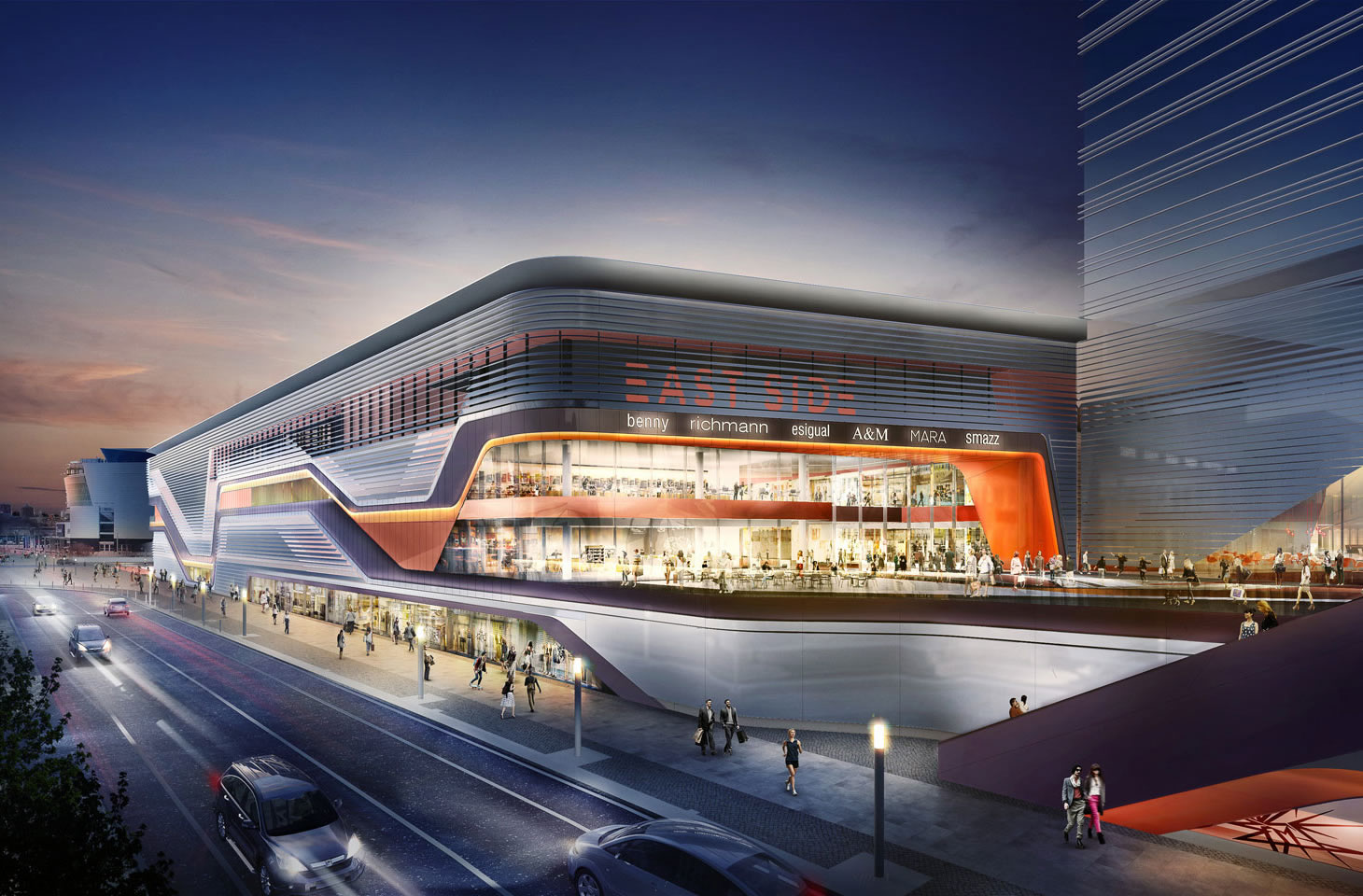 In the heart of Berlin and in one of the city's most important district developments, the architecturally unique "East Side Mall" is being created. In Berlin's centrally located district Friedrichshain, not far from the tourist attraction East Side Gallery, along the north bank of the Spree, a spectacular district development is picking up full speed.
On the site between Warschauer Brücke and Ostbahnhof, within the framework of the Spreeraum master plan, an entertainment district with multiplex cinema, a bowling center an event arena for 4,000 visitors, restaurants, hotels, over 2,000 upscale apartments, over 18,000 new office workspaces as well as the East Side Mall are being created.
Mercedes-Benz-Sales Germany, Zalando AG and the Holiday Inn Hotel City East Side have already settled in with additions already under construction. These are great prerequisites for the East Side Mall currently developed by the FREO Group on the site belonging to the renowned Anschutz Entertainment Group – between the Mercedes Benz Arena (formerly o2 World with a capacity of up to 17,000 visitors) and the Warschauer Brücke (subway and suburban train junction with approx. 85,000 people boarding or changing trains daily as well as the main traffic artery connecting Friedrichshain and Kreuzberg).
The center with its futuristic appearance, which in terms of design fits perfectly into the surrounding entertainment setting, is ideally accessible via two main entrances on two levels – on the one side from Warschauer Brücke and on the other from the Mercedes Benz Arena – and optimally integrated into this highly frequented environment. On a rentable space of over 38,000m2 (retail space approx. 24,800m2), the center will be supplied with an attractive mix of retail, service, food and beverage, recreational and event spaces. In addition, there will be approx. 760 car parking spaces.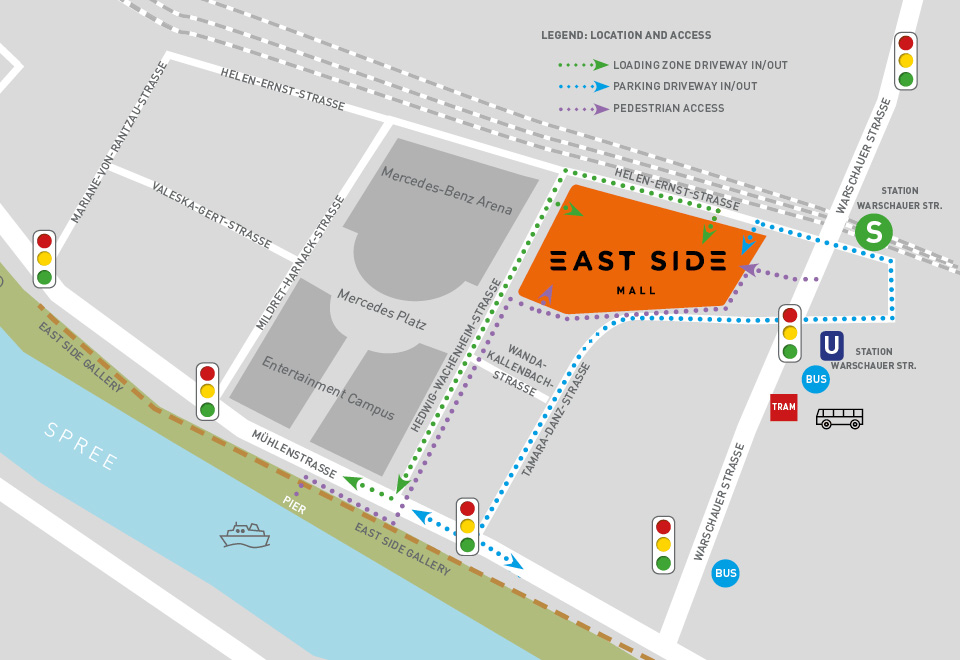 On three levels and with about 120 stores, the range of products will be specifically geared towards the needs of the thousands of people who will be living, working and going out in this district in the future. In addition, there are the residents in the surrounding quarters and the workforce employed at the "Oberbaum City" adjacent to the east as well as those working at the German headquarters of Universal, Coca Cola and MTV/Viva along Stralauer Allee. Aside from a strong emphasis on fashion, supplying consumer goods for everyday life will thus be taken fully into account as well. A further center of attention, among others, will be a richly diverse food court.
Siegfried Tenner (FREO), responsible project director: "In Berlin's vibrant and creative heart, a very special shopping center is being created, whose architecture will attract attention beyond Berlin's borders and whose mix of tenants reflects regional wishes just as much as new international concepts for a cosmopolitan metropolis. Ben van Berkel, with his Amsterdam office UN Studio has created a planning concept that offers an ideal complement to the new quarter for the development area between East Side Gallery and Warschauer Brücke. The extraordinary and high-quality façade design rounds off the modern interior that simultaneously exudes neighborhood flair – all in all a place that causes amazement and makes you feel good."
Construction of the East Side Mall will begin in 2016, and the opening is planned for 2018.
Project name: East Side Mall
Location: Berlin-Friedrichshain (between East Side Gallery and Warschauer Brücke)
Developer: FREO Financial & Real Estate Operations GmbH, Berlin
Investor: Forum Invest S.á.r.l., Luxemburg
Architects: UN Studio Amsterdam, Aukett + Heese, Berlin
Size: 38,700 m² GLA (24,800 m² retail space)
Number of stores: Approx. 120
Car parking places: Approx. 760
Special features: Two entrance levels, large food court, large fitness center
Construction begins: 2016
Opening: 2018
For more information, visit EXPO Real in Munich on October 5-7, 2015, (stand A1.331) or visit www.eastsidemall.de