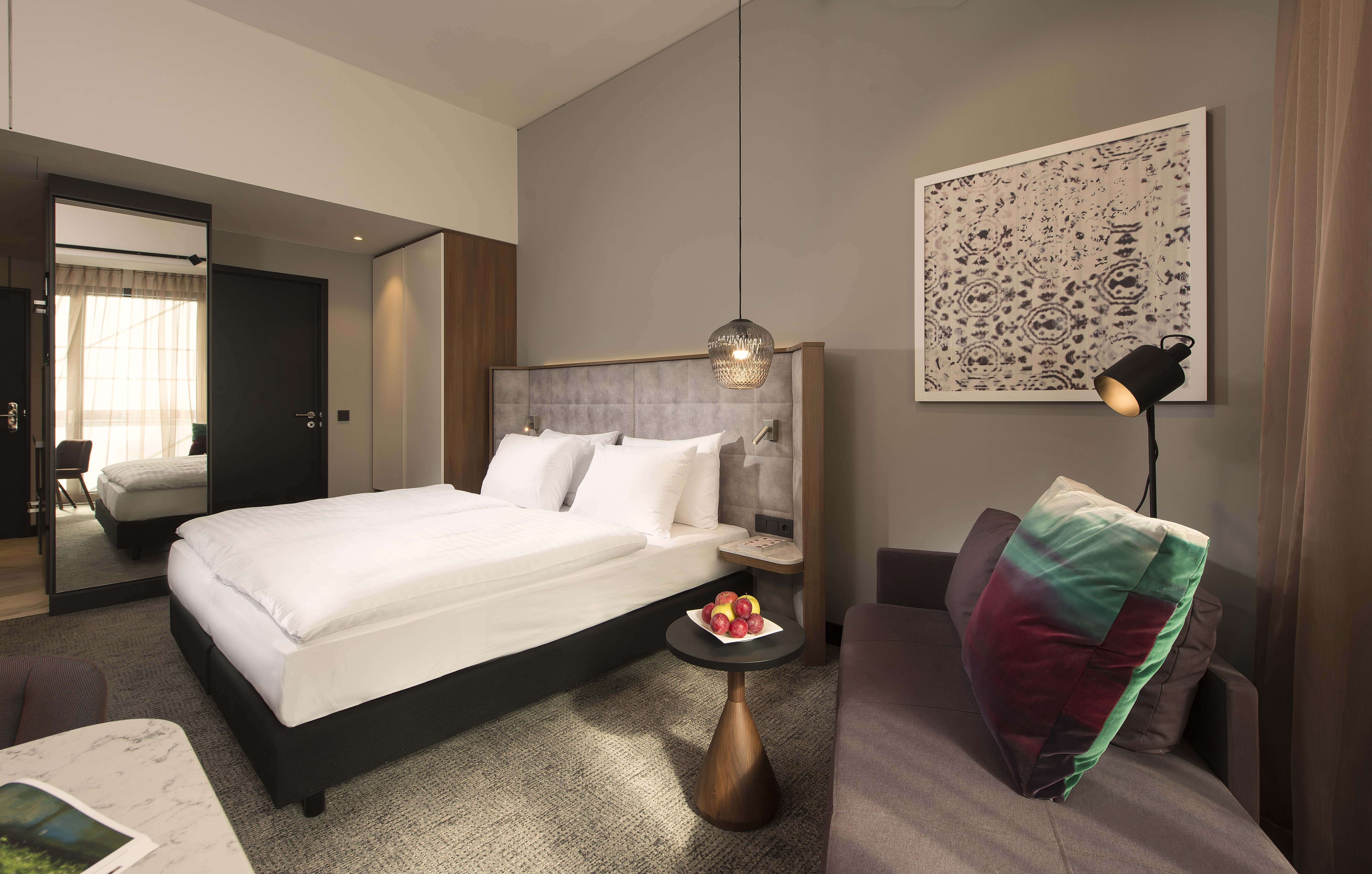 FREO Group is pleased to announce that it has sold its recently constructed Adina Apartment Hotel Nuremberg to Invesco Real Estate, the global real estate investment manager.
The former Commerzbank branch office building was recently converted by FREO into an "extended stay" facility and opened its doors as the city's first Adina Apartment Hotel in November 2016.
Fabian Manegold, Senior Director – Transactions at Invesco Real Estate comments: "We are delighted to have acquired this property on behalf of one of our UK separate account mandates and to be working together with Adina Apartment Hotels, which has an impressive track record in the "extended stay" segment – a new and attractive sub-sector within the hotel market. The fully renovated property is located in a core location within Nuremberg's historic old-town district, near the city's top retail stores."
Chris Brassington, Director – Fund Management at Invesco Real Estate adds: "The demand from institutional investors for pan-European hotel real estate has increased significantly over the past few years due to their attractive income return component, and we are pleased to add exposure to this developing segment into our client's existing portfolio. It is thanks to our dedicated hotel team who are experts in this field and have extensive knowledge of both the hotel operational business and underlying real estate that we were able to secure and manage this opportunity."
Matthias Luecker, Chairman & CEO of FREO Group comments: "We are pleased to have successfully completed this city centre hotel development for Adina, which is already proving to be a fantastic addition to the city's hospitality offer, and are delighted to have sold the investment to Invesco Real Estate. We wish every success to both our partners and look forward to further collaboration in the future."
"With the sale of the new developed building by FREO Group, we are delighted that Invesco Real Estate joins Deka, Commerz Real and two family offices in collaborating with the Adina brand in Germany," says Andrew Hunter, Director Europe at Adina. "Adina now operates 1,200 rooms in Europe and sees tremendous further potential for the apart-hotel sector in Germany. Adina is seen as a strong partner for institutional investors. We have a further four hotels currently under development and plan to continue so grow in both the big 6 cities as well as regional centres."
With their large, individually designed studios, full-range four-star hotel service and the cool Australian lifestyle, Adina Apartment Hotels are conquering the European tourism industry and are also represented in the Franconian city of Nuremberg, starting in November 2016. Just like all Adina Apartment Hotels, the Adina hotel in Nuremberg is located very centrally, in the middle of the historic old-town district. Tourist attractions, cultural offerings and shopping options are all within walking distance. Like Australia, the hotel group's country of origin, Adina Apartment Hotels also represent ample space and comfort, a multicultural atmosphere as well as a warm and relaxed attitude to life.
"We are delighted to be able to open our first hotel in Middle Franconia. Nuremberg has developed into a highly attractive hotel location with excellent infrastructure. With its splendid location, its spacious apartments and service offerings of an upscale four-star hotel, the 'Adina Nuremberg' will equally appeal to business clients as well as tourists and has the potential to become the market leader in Nuremberg," says Georgios Ganitis, Regional General Manager Europe.
The 138 studios and apartments have the advantage of generous space, starting at around 30 square metres, and each display an individual look at the same time: The range extends from floor studios to spacious corner rooms through to top-floor apartments. By contrast, the high-quality furnishings are always identical: Each apartment has a seating area for living and working, a fully equipped kitchen unit with stove, microwave oven, dishwasher and sink as well as a washing machine and tumble dryer – perfect for modern travellers who want to feel at home even when they are on the road.
Invesco Real Estate was advised by CMS Hasche Sigle, among other firms, on this transaction. Savills and Simmons & Simmons advised FREO.