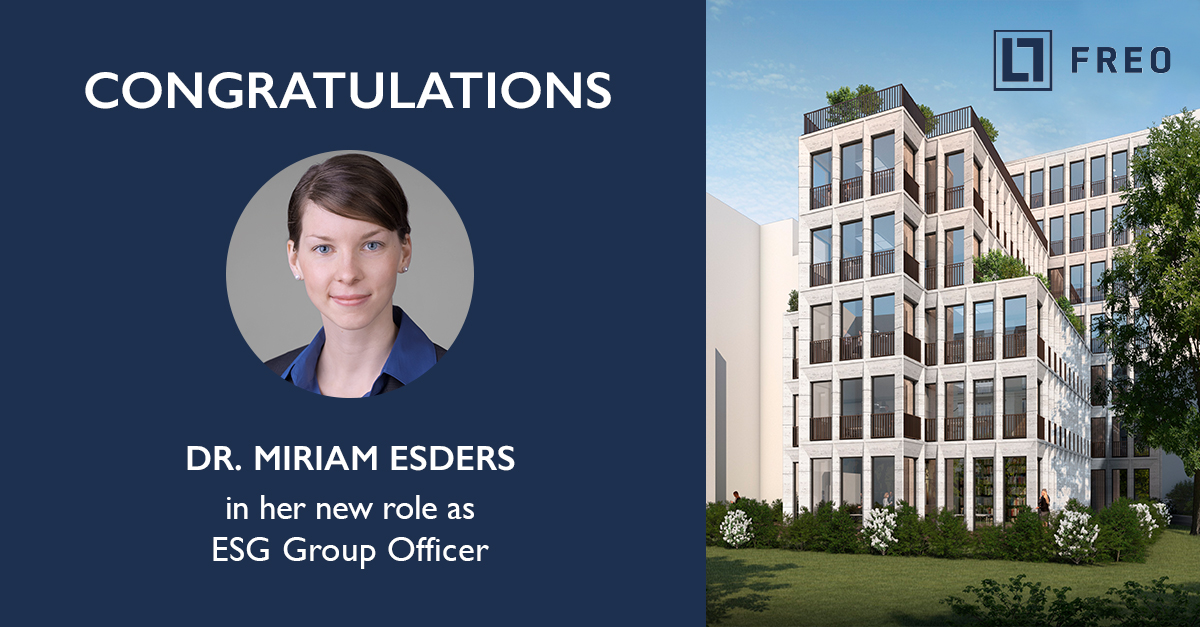 FREO Group ('FREO'), the trusted operating partner of global investors that provides unrivalled access to on-the-ground real estate experts in Europe, the UK and the US, has appointed Dr. Miriam Esders as ESG Group Officer and Sustainable Real Estate Manager.
Miriam originally joined FREO in March 2021 to oversee sustainable project development and drive long-term ESG value for the company and its stakeholders. In her new role, Miriam will play an integral part in FREO's ESG strategy and continue the firm's commitment to sustainable efforts by working closely with partners and investors. Her knowledge in ESG benchmarking and sustainable construction will allow her to support the investment teams to identify ESG risks in asset management and transaction processes.
Miriam brings a wealth of experience in ESG following six years at the University of Science and Technology (ETH) in Zurich, where she researched sustainable building design specialising in evaluating flexibility in uncertain conditions. Along with this, Miriam has a degree in civil engineering from RWTH Aachen and an international diploma in concrete structures from Imperial College London. Prior to FREO, Miriam was a Real Estate and Sustainability Consultant at pom+Consulting AG where she worked in ESG benchmarking for real estate portfolios as well as project-related operational planning.
Matthias Luecker, CEO of FREO Group, said: "Miriam has been a fantastic addition to the group and we are excited to see her succeed in her new role as she drives our ESG strategy forward. Sustainability is at the core of FREO and as we enter a critical decade for the planet, Miriam brings enviable knowledge and experience to our strategy as we remain innovative in our sustainability approach, working closely with partners, investors and overseeing our supply chains, resources and capital."
Miriam Esders said: "FREO has a long history in working hard to put ESG at the forefront of everything it does and I'm excited to work with the team as we continue to build on our sustainability strategy. We must continue to provide long-term ESG value and deliver the best for our partners and investors. I'm looking forward to what the future holds for FREO."